About Les Houches
Les Houches is a village located in Chamonix valley, in the French Alps. Established in 1951, the Physics School is situated at 1150 m above sea level in natural surroundings, with breathtaking views on the Mont-Blanc mountain range.
Les Houches Physics School is affiliated with Université Joseph Fourier Grenoble I (UJF). It is a joint interuniversity facility of UJF and Grenoble-INP, and is supported by the UJF, the Centre National de la Recherche Scientifique (CNRS) and the Direction des Sciences de la Matière du Commissariat à l'Energie Atomique (CEA/DSM).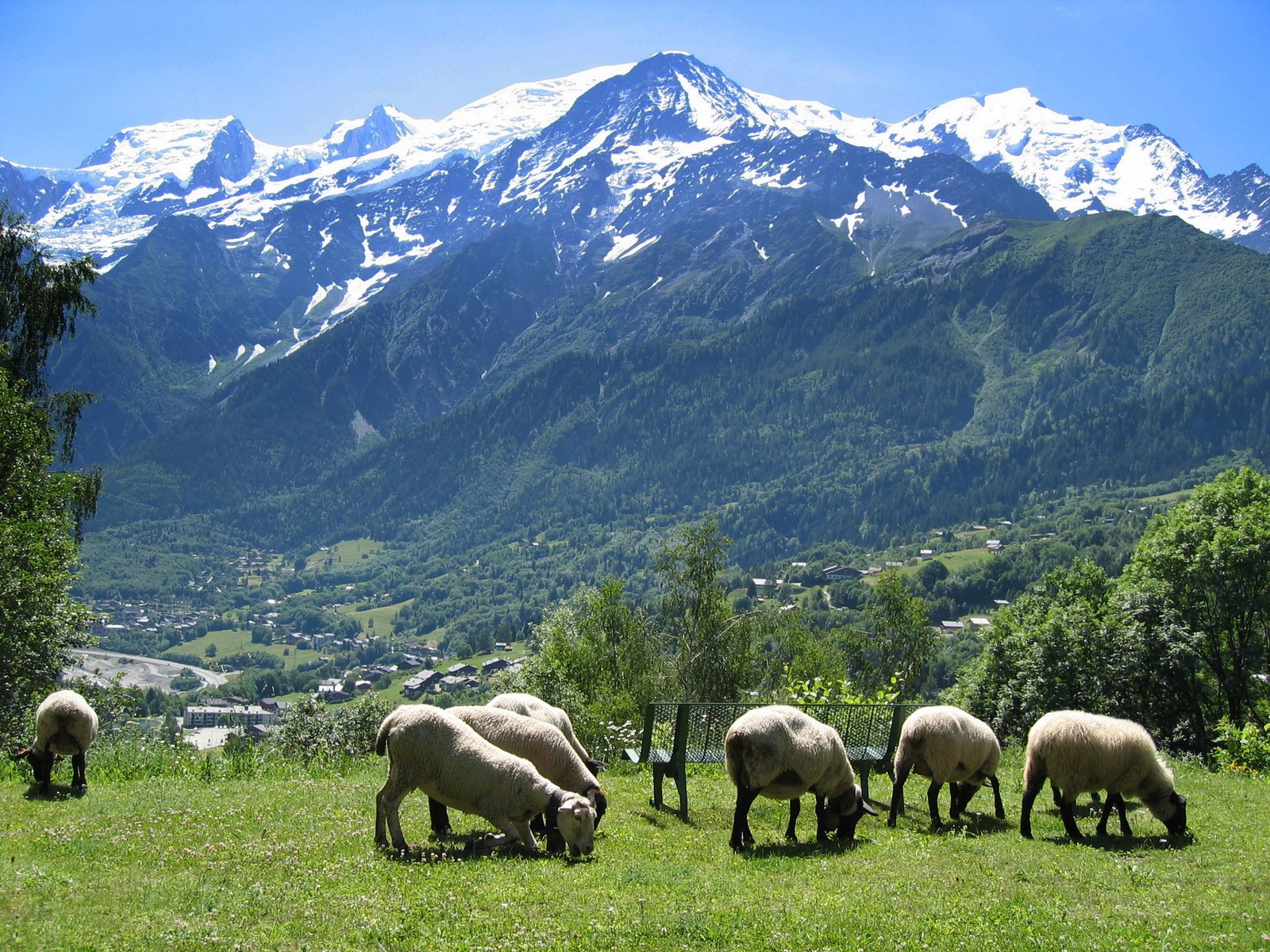 Informations
Facilities
The main building holds a library with the main scientific journals (paper version or online) and some reference books, three working rooms with blackboards, and a computer room with Laser Printer. Wireless and Ethernet connection will be available in the main building only, excluding in the conference room.
Meals are taken three times a day at the school dining room. A coffeehouse is also available to drink coffee, tea (free!) and liqueurs or to play a piano, table football or table tennis. Breakfast: 8:00 am to 8:45 am ; Lunch: 12:30 am ; Dinner: 7:30 pm. Accompanying persons who have registered can take their meals at the restaurant (8 euros per meal).
Participants are housed in "chalets" in individual bedrooms (electricity: AC, 50Hz, 220V). A flashlight is handy at night ; the school chalets are scattered on the mountainside and outside lights may be poor (power failures, storms,...).
Weather
The altitude of the school is 1150 m (3800 ft). Temperature ranges from 5 to 25°C in summer. Sport clothes are preferable. Warm sweater(s), rain gear, good walking shoes and home shoes are necessary. weather forecast for the next days

Access
By plane: Geneva Airport is 1 hour drive from les Houches.
The simplest way is to use a shuttle service (approximately 40 euros up to the school, book at least three days in advance).
Click here
for a complete view of the different companies.
There is also a regular bus service between Geneva and Les Houches (only once or twice a day):
http://www.coach-station.com
. One should then take a taxi for the last 5 kms from the Les Houches village to the school (the total cost is similar to that of the limousine). One can also travel from Geneva to Les Houches by train (+ taxi from the train station to the School), but it is quite complicated (3 connections) and long (go through Annemasse on the French side or through Martigny on the Swiss side).
By train: arrival at the Les Houches station, with one change at Saint-Gervais (from France), or at Martigny (from Switzerland). There are about 10 trains per day between St Gervais and Les Houches (schedules, 20mn trip). Then we strongly advise you to take a taxi (tel. +33 (0) 6.12.35.30.72 or +33 -4-50 54 41 09) to go up to the school (5km).

By road: Les Houches are easily accessible from France (A41 highway), from Switzerland (Martigny and Col des Montets) and from Italy through the Mont Blanc Tunnel.
From Geneva and Le Fayet: 8km before Chamonix, 300 m after passing under the tunnel, bear right by the first road out for "Les Houches Bellevue". When arriving at the cable car station "Bellevue", turn right and continue upwards (roughly 2 km starting from the teleferic). 500m after the cable car station "Prarion", turn left and follow small arrows at crossroads. Continue up to the end of Route de la Côte des Chavants. Here you are! From Chamonix: bear right for "Les Houches-Chef-Lieu", turn right in Les Houches, go ahead at the cable car station "Bellevue". Then proceed as above.
Cars may be rented from Geneva and from Chamonix, it is useful to make a reservation.
What to do in Les Houches and in the valley?
Les Houches is a paradise for mountain hiking. There are dozens of trails available by foot or within a small driving distance from the center. You can find here a map of the hiking trails in the area (in purple).
see for example: http://www.leshouches.com and http://www.chamonix.com